Meet Dr. Robert Molato, Chiropractor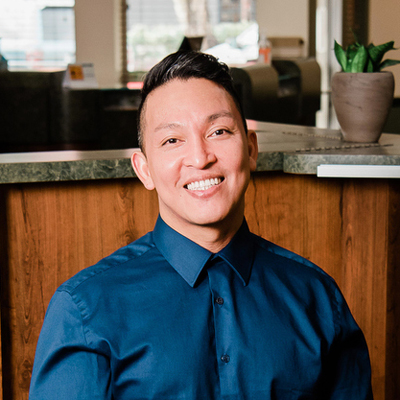 Dr. Molato is a US Marine Corp and Air Force veteran. After his service in the military, he would earn his B.S. in Exercise Science from Seattle University. Dr. Molato went on to attend Palmer College of Chiropractic West in San Jose, California with a goal to gain more knowledge and experience to help patients and improve their quality of life.
Helping Patients in Need
"It's inspiring, when you see patients who come to the college clinic in pain, and the next visit to clinic, they're feeling better and gradually improving. One patient I worked with was underserved and struggling, needing pain pills to manage his symptoms. He was able to ration his pain medication supply by supplementing it with chiropractic visits; if he didn't come to the clinic, his pain was too great to handle without medication.
Dr. Molato enjoys helping patients of all walks of life, and hopes to provide restorative care, improving independence and assisting patients in living their best life. Beyond chiropractic as a pain relief strategy, he hopes to also share his whole-body care focus of wellness through the powerful preventative benefits of hands-on care.
Creating a Home for Patients
Dr. Molato prioritizes flexible and individualize care. "It's an honor to be trusted to care for my patients, and hope it instills confidence that I am here to help! To care for patients, I listen and observe to apply more personalized treatments." His aim is restorative wellness. "One patient I had the pleasure of working with was an elderly woman who was experiencing numbness and tingling down her arms and legs. That very first day, she could barely walk. After several visits, she was able to go to the gym and started working out again. Ever since, she's been taking a proactive approach to her wellness and that helps her continue to thrive." Dr. Molato would like for "patients to find hope and comfort with our care because we genuinely want to help them and listen to their needs."
Outside of the Practice
When Dr. Molato isn't spending time caring for patients, he enjoys spending time with his wife Brenna and their two loveable rescue dogs, Ducci and Harry. The couple loves to enjoy the outdoors and highly regards the Pacific Northwest for all the outdoor recreational opportunities it has to offer. They enjoy exploring together and discovering new adventures, including trying unique hobbies such as seafood foraging (and cooking razor clam chowder!). Learning how to mushroom forage is also on their list.
Dr. Molato would love the chance to welcome you into our care. To get started or learn more, contact us today for a visit; we can't wait to see you.


Dr. Robert Molato | (360) 352-3333