Piezowave/Shockwave Therapy in Olympia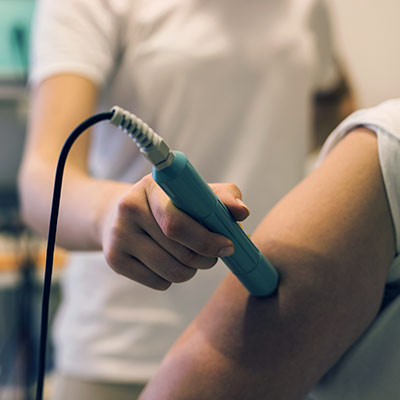 Struggling to overcome acute or chronic pain? At Aligned Health PC, we're proud to offer patients several different treatment options when it comes to their health journey, and PiezowaveTherapy or Shockwave Therapy is the most recent addition to our practice.
Typically, treatment will take just 15 – 30 minutes per session. It's an ideal therapy for patients who are ready to focus on deep healing and experience long-lasting relief.
Here's more about what you can expect!
What is Piezowave/Shockwave Therapy?
Piezowave/shockwave therapy is a series of myofascial acoustic compression waves that can be focused and applied exactly where the problem lies in your body. These soundwaves work by specifically targeting injured soft tissue(s) – the muscle system underneath your skin. They provide pain relief and improve circulation by stimulating your body's natural healing processes. This helps to encourage blood flow to your painful area, and brings healing bio-chemicals to promote soft tissue recovery.
To tailor your treatment, the soundwaves are adjusted for depth and intensity. This way, the soundwaves access injured tissues that may be too deep to reach by standard physical treatments for soft tissue injury–and have greater healing impact.
Our patients are asked to relax on our treatment table. The injured location is inspected and assessed to determine the appropriate depth for treatment. Next, a thin layer of gel is applied on the area to ensure soundwaves will properly transmit from the device to the injured tissue. You can expect the soundwave therapy to mimic the sensation of your complaint, though it should subside immediately after the session. Once the device is on, the intensity is adjusted according to the patient's comfort – you take the lead so any discomfort is aligned to your tolerance.
After the initial session, you may notice less tightness and pain relief at the treated area. In some cases, you may experience slight soreness – this is due to the stimulation of your body's healing process. Most patients find the therapy relaxing and look forward to the relief their session provides!
Depending on your unique issue and session response, our clinicians will work with you to determine a follow-up treatment plan that will stimulate best results for your condition. For some, a follow-up session may be recommended in a few days to a week; others could be longer. We encourage you, if you have additional questions or have interest in this treatment, contact our team today!
Piezowave/shockwave therapy is a non-invasive treatment process with minor side effects – like skin redness. It is considered a safer and less invasive alternative to surgery. You can return to your daily activities immediately; downtime following a treatment is unnecessary.
Patients with chronic or unresponsive injuries that have tried other methods of care to no avail may be great candidates for this type of therapy.
Some common injuries that benefit from Piezowave/shockwave therapy:

Headaches
Neck pain: Whiplash injury, tech neck, etc.
Hip pain
Pain and tissue inflammation associated with Arthritis
Elbow pain: Tennis elbow, Golfer's elbow, etc.
Shoulder pain: Rotator cuff injury, Frozen shoulder (adhesive capsulitis), etc.
Tendonopathy: tendonitis and tendonosis
Wrist or Ankle Pain
Plantar Fasciitis
Myofascial dysfunction
Chronic trigger point pain
Repetitive stress injuries
Sprains and strains
Learn More Today
If you've been suffering from acute or chronic pain in your muscles, tendons or joints, Piezowave/shockwave therapy may finally give you long-lasting relief.
If you're curious, we'd love to help you better understand if Piezowave/shockwave therapy could help you. Contact our team today to get started and learn more. We look forward to seeing you in the practice soon, and know that together, we can get your health back on track.
CONTACT US »

Piezowave/Shockwave Therapy Olympia WA | (360) 352-3333